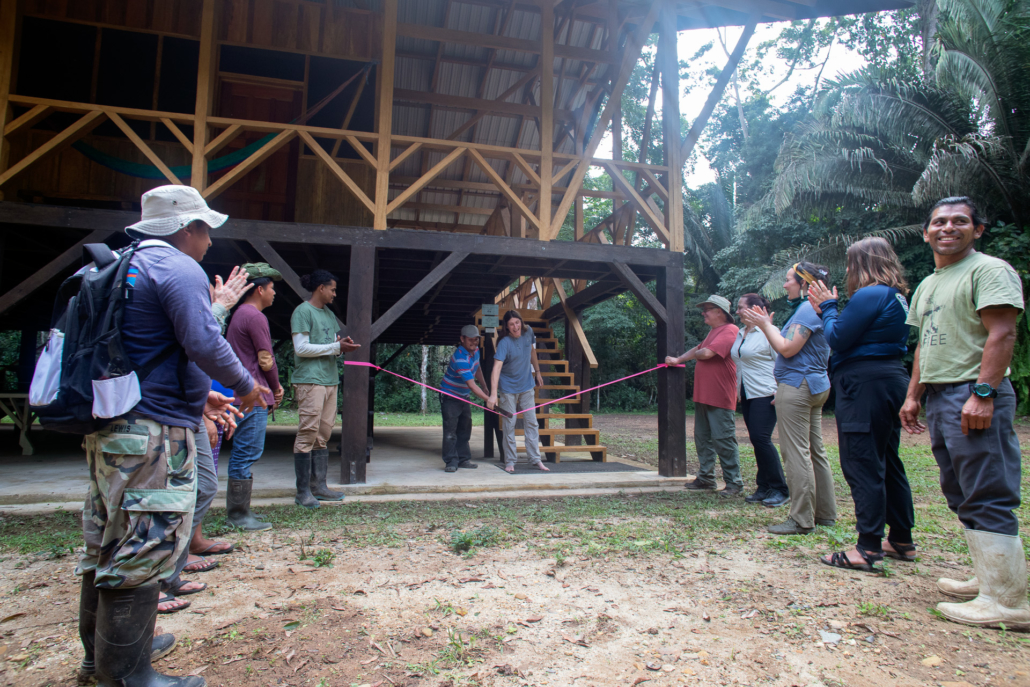 In February 2022, BFREE Executive Director, Jacob Marlin, and BFREE Facilities Manager, Marcelino Pop, using a machete, cut the fluorescent pink flagging tape to celebrate the completion of BFREE's newest facility, the Hammock. Staff and visiting guests, and volunteers cheered along for this momentous occasion.
The Hammock remains in the exact location as BFREE's Bunkhouse that was built in 1998—situated 200m from the river and under the hulking shade of a massive 140-foot Ceiba tree. Replacing the original four rooms with twelve bunk beds is now six-private rooms and a 10'x'32' open-air veranda and observation deck serving as a great spot to view wildlife like the Harpy eagle!
With twenty-four beds in total, the bunkhouse can now sleep 24 – 28 individuals. The four corner rooms have one full bed and twin bunk beds, and the two center rooms have two triple bunk beds. Each room has a light and fan. Next to every bed is an electrical outlet, nightstand, and a locked safe box. The Hammock was designed to accommodate all types of visitation and now includes other hangout and relaxing spaces amongst the many hammocks hanging from the veranda and a place to play ping-pong under the building.
The most exciting aspect of this new building is that it is nearly 100% zero waste. The original bunkhouse was dismantled board by board, and each piece of material was evaluated to determine if it could be reused, including boards, nails, and roofing. With the exception of the new roof and tongue and groove flooring, all of the material used to build the Hammock came from salvaged dead trees from the BFREE property. The trees were then milled into lumber by chainsaw. Paying tribute to the trees of BFREE, each of the Hammock's six rooms is named after a tree species found on the BFREE Reserve: Salmwood, Santa Maria, Cantimo, Yemery, Ceiba, and Sapodilla.
The Hammock housed its first visitors in February and many of the rooms have been occupied over the last few weeks. We look forward to many more guests enjoying this beautiful facility for years to come!
https://www.bfreebz.org/wp-content/uploads/2022/03/SR_6253.jpg
1280
1920
Tyler Sanville
https://www.bfreebz.org/wp-content/uploads/2019/10/Logo-1080.png
Tyler Sanville
2022-03-30 13:56:18
2022-03-30 14:02:01
Ribbon Cutting Ceremony for The Hammock