By Holly Brabazon

Would you believe that small biting midges are cacao's main pollinator? They're only about the size of a pin head, and they don't fly very well either, but with how small cacao flowers are, and how they're shaped, cacao has to rely on the tiny midge to pollinate its flowers. Unfortunately, midges worldwide do a poor job pollinating all the flowers made by cacao trees. Only a small percentage of flowers get pollinated, and even then, only a few of those pollinated flowers receive enough pollen (about 115 pollen grains) to make a fully formed, viable pod.
A first step to better understand pollination in cacao is to study pollination of wild-growing cacao. To date, only a few studies exist on wild cacao pollination, and many questions about pollination remain unanswered. For instance, we still do not know how many times a flower needs to be visited to be fully pollinated, how often flowers are pollinated with pollen from the same tree, or how pollen is moved around the forest. Not to mention, we only have a rough guess of how far a pollinator can even travel. These are some of the questions I will investigate as part of my PhD research.
To start answering these questions, we will gather genetic information from all the wild cacao trees growing in the forest at BFREE by sequencing the DNA of these trees. There are about 300 wild trees at BFREE, and thanks to Elmer Tzalam, Mark Canti, and the cacao team's hard work, each and every tree has been visited, georeferenced using GPS, and labeled with a metal tag. We were able to use these GPS coordinates to find and collect leaves from many of the trees at BFREE in June 2022. Now, Lenardo Ash, a BFREE Cacao Science Fellow graduate and student at the University of Belize, has taken on the responsibility of collecting leaves from the remaining trees. Once the leaves are collected, we will extract and sequence their DNA. These genetic data will allow us to identify unique DNA tags for each tree, like a fingerprint, from the unique patterns in their DNA.
With these DNA "fingerprints," we can learn a lot about the natural history of the cacao growing in the forest at BFREE. We will see how genetically diverse the population is and determine if there are unique clusters of trees with similar genetic variation. Many other cacao populations in the world have genetic mechanisms to prevent self-pollination, and we will see if those same genes are found in the BFREE trees.
We also will use these genetic data to figure out exactly which trees are pollinating other trees' flowers, just like a paternity test. To perform our paternity experiment, we collected pods from several wild cacao trees growing out in the rainforest at BFREE. We brought those pods back to the nursery and planted the individual beans in bags of soil, making sure to carefully label each soil bag to indicate which tree the pod came from. The beans are growing in the nursery right now. Once the seedlings have leaves big enough to collect, we'll sequence their DNA. Then we'll do a paternity test on each seedling to identify who the father tree is that contributed the pollen. Once we know who the father tree is, we'll map how far pollen traveled to pollinate the flower on the mother tree. This information will allow us to search for patterns of pollen moving around the forest. With pollination being a limiting factor in cacao production, our studies may ultimately help cacao farmers increase production with better pollination management. We just need to better understand how cacao pollinators move around the forest and what they are capable of in a natural rainforest environment.
We had an amazing time working with all the great people at BFREE. It was an adventure to explore a pristine rainforest searching for cacao trees, and I can't wait to see what we learn from our results!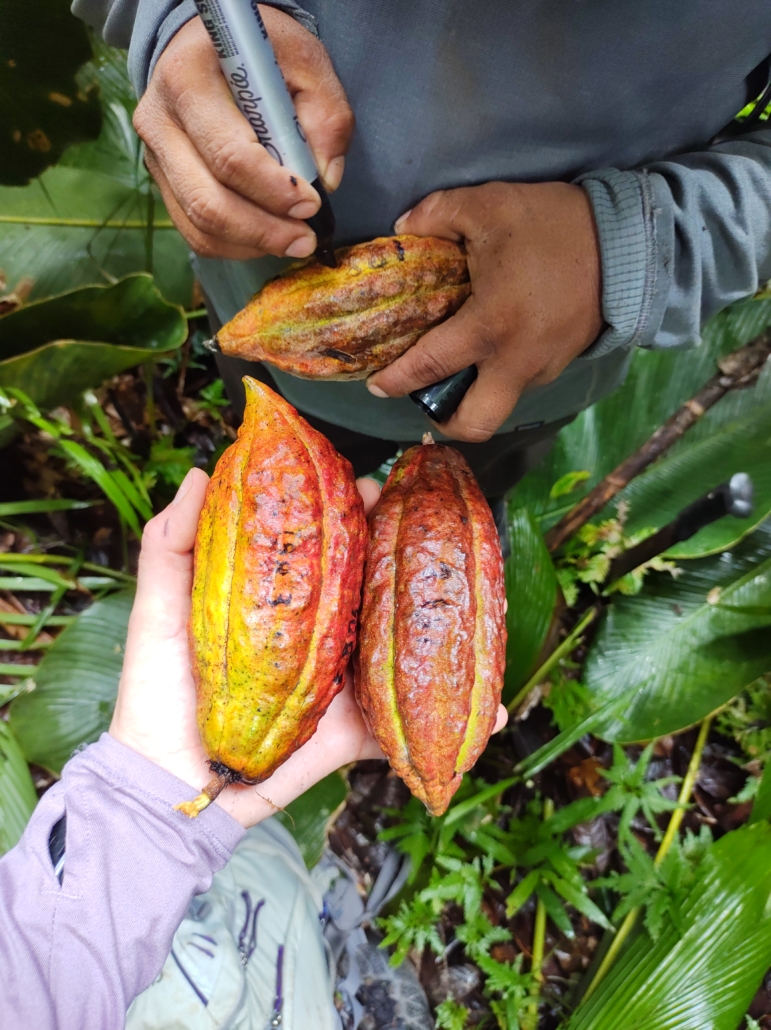 https://www.bfreebz.org/wp-content/uploads/2022/08/IMG_20220606_163830767-3-rotated.jpg
1728
2304
BFREE Contact
https://www.bfreebz.org/wp-content/uploads/2019/10/Logo-1080.png
BFREE Contact
2022-07-28 18:32:00
2022-08-07 02:57:07
Pollination and Paternity Testing